Hey kids, it's almost time for New York Comic-Con! This year that means something extra fun as I will be sharing a booth with Attila Adorjany, artist extraordinaire! Attila and I have a lot of fun together, we actually have to be careful about calling each other because we have ended up chatting till 6am just having discussions ranging from here to there, near and far.
So if you come by the booth (Booth #349 which if you click this link will show you a map!) we will not only try and sell you things (he makes shirts that I love and toys and art that is amazing! I will have all sorts of books and things extra cheap!) but we will talk to you and ask you to hang out. Seriously, we are designing our booth to be able to hang out with people. So come by and say hello and buy some stuff if you're so inclined.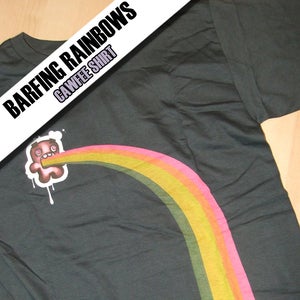 I mean, Christ, he sells barfing rainbow shirts. You need these (If you won't be at the show you can order them here) and you know it.
Anyway! NYCC! Booth #349! Come by! Books and art and shirts and toys and good times and laughter. Yup. Spread the word. October 8th-10th at the Javitz.
But and so also, the 6th of October, Weds, two tiny days before the convention, I'll be on the Joe Conte show. I don't mean calling in, either. I will apparently be in the studio for this one. I don't know how long or anything, but the show is worth listening to, regardless. Funny fucking shit goes down there. It also has a chat room and you can listen live on the intardwebs and everything. All at the show's site: www.thejoeconteshow.com which is pretty easy to remember.
So I would be quite happy if you listened in. I'll be there to promote NYCC and I Slept With Your Imaginary Friend, my newest book of essays and short fiction. I think it is now a goal in my life to get Joe Conte to discuss Dazzler with me, live on air. So look for that.
And that's what's going on, kinda mostly, sorta. Woo!